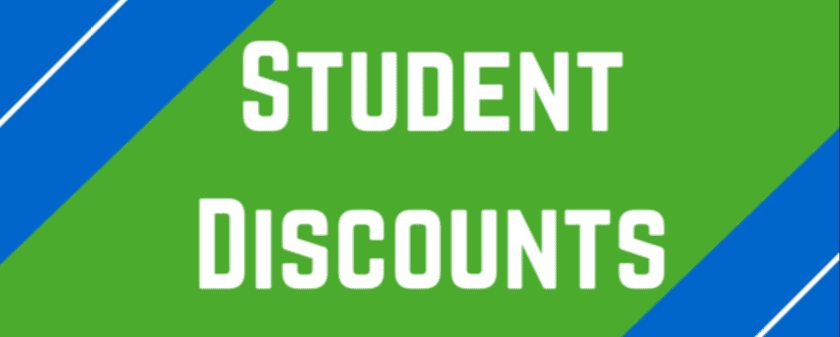 Student Discounts
Retail/Other
Amazon Student:

 Students get 6 months of Prime membership free and then pay only $39 for up to 4 years.   Students receive 50% off Amazon's Prime service, which includes unlimited two-day shipping. They also receive exclusive offers and discounts and eligibility for sweepstakes and contests.

BMO Bank of Montreal: This bank offers free banking to students and a free SPC card so you can enjoy discounts at hundreds of retailers across Canada.

FedEx: When you're shipping a package, you can earn 20% to 30% off by showing your student ID.

General Motors College Discount: Receive a special student bonus discounted pricing on a Chevrolet, Buick, Cadillac or GMC vehicle. Visit their website to see if you're eligible.

ISIC Canada Card: The International Student Identity Card is your student discount card in Canada and around the world. It offers discounts on planes, trains, laptops from Dell, reduced pricing on Microsoft office, and savings with over 40,000 discounts worldwide.

PC Financial: PC Financial offers a no-fee bank account that includes free daily banking. You can even earn interest on the balance in your account.

SPC Savings Card: If you're a student all you need to do is show your SPC Card at thousands of participating locations to receive instant savings every time you shop. Offers vary but most are 10% to 15% off.

Student Saver Card: This is Canada's only student owned and operated national student discount program. Receive 10% to 50% off purchased goods and services at participating businesses. This card is available to part-time and full-time students.

ISIC Canada: a $20.00 card that gives you access to discounts at retailers including TOPMAN/TOPSHOP, FedEx Office and more! Some schools (like OCAD) offer this card for free.

SPC Card: a $10.00 card that gives you access to discounts at retailers including ALDO, Little Burgundy and more! A VIP SPC Card is also available for those who aren't students but want to take advantage of the offers.

UNiDAYS: Become a member of UNiDAYS to access a world of discounts from your favourite brands. They offer fast, free, exclusive deals for students.

adidas: 30% off regular price and 15% off sale merchandise.

Banana Republic: Save 15% on full-priced, in-store purchases only.

Bulk Barn: Students receive 10% off on Wednesdays with valid ID.

Club Monaco: Both full-priced and sale items are 20% off with your valid post-secondary ID. If you're shopping online, submit your email to receive a code.

H&M: Valid ID must be presented to receive 15% off entire in-store purchases.

Crew: The store offers 15% off when you're shopping in-store and show a valid school ID at checkout. The offer is only valid on purchases made in J.Crew, J.Crew Factory and J.Crew Mercantile stores.

Kate Spade: Show your student ID and receive 15% off your purchase.

Levi's: This store offers 15% off for students. Register to receive the same 15% off for online purchases.

Roots: Students save 20%

with their student discount on regular-priced items. 

Sally Beauty Supply: Save on products with your Beauty Student Card from Sally Beauty Supply. You'll get monthly specials and special email offers to take advantage of.

TOMS: Students

can get free shipping on all orders of TOMS Shoes; the company donates a pair of shoes to a child in need for every pair you buy.

TopShop: Students get 10% off. Visit their website for more information.

Urban Outfitters: Save 10% off on specific days with your Student ID. Sign up for their Student Program to be told when to use your discount.

Real Canadian superstore: Save 10% on Tuesday. Check if your local store offers it.
Restaurants and Bars
Arby's: Students save 10% off their entire meal when they use their ID.

Buffalo Wild Wings: At many locations across Canada you can receive 10% off your meal. Just ask your server to see if the deal is available at your location.

Burger King: Students can receive 10% off their meal by showing their student card.

Chipotle: Students receive a free soft drink after the purchase of food, with ID.

Dairy Queen: Students receive a discount of 10% off their purchase.

Hard Rock Cafe: Hard Rock Cafe locations worldwide offer a 10% discount for students with valid ISIC.

Subway: Students receive a discount of 10% with valid ID.

Louis Bar & Grill: Get $5 off any hot menu item or 20% off food
Tickets and Admission
Art Gallery of Ontario: Student membership to the AGO is $45 for unlimited admission and most special exhibitions for the cardholder. It is $11 for general admission for students with valid ID. Students can get in for free on Tuesdays after 3 p.m.

Canadian Opera Company: As long as you're under the age of 30, you can buy opera tickets for only $22.

Cineplex: Students can pay $8 for admission to a movie every Thursday.

Ontario Science Centre: Students with valid ID pay $16 for entry.

National Ballet of Canada: Sign up for their free youth pricing program and get steeply discounted tickets for day-of performances. This deal is open to people aged 16 to 29.

Royal Ontario Museum: Students get into the ROM for $14.50 any day of the week. On Tuesdays, admission is free with a student ID.

Rainbow Cinemas: reduced ticket prices at select theatres.

TIFF Bell Lightbox: reduced ticket prices.

Various local attractions: many places like museums and art galleries offer discounted admission for students, making it a great place for a quiet date or to see dinosaurs because they are extremely cool.
Books and Magazines
The Globe and Mail: The Globe and Mail offers post-secondary students reduced subscription rates for the newspaper and Globe Unlimited.

The New York Times: College students can save 50% off the regular subscription rate. Check the College Rate page for all the details.

The Wall Street Journal: Students can get the publication for a rate of $1 a week
Fitness
GoodLife Fitness: Student memberships are offered here. Stay fit for the semester with the help of GoodLife Fitness and their four-month term membership options.

YMCA : Many YMCA centres offer a discounted membership for students.
Travel and Transportation
Air Canada: Air Canada and StudentUniverse teamed up to provide the best student discounts on airfare. Check out their website for the features of flying Air Canada, as well as baggage information.

GO Transit: You can get a GO-approved Student ID card through GO Transit or at your school, then pick up a re-loadable PRESTO card wherever you buy GO tickets. Set up your PRESTO card for Student Fares to save at least 17%.

Greyhound: A student ID will save you 10% and an ISIC card will save you 25% on a regular adult fare.

StateFarm: Student car insurance is available for post-secondary students looking to find the cheapest auto insurance available to them.

TTC: The Post-Secondary Metropass is available from TTC collectors in subway stations or at participating TTC fare sellers for $112.

VIA Rail: Travel between major Canadian cities with an Unlimited Semester Pass starting at $499.

Zipcar: Zipcar has partnered with many schools to offer discounted membership rates to students. Search for your school on Zipcar's website and register with your school email address. Sign-up rates are usually around $20 for students
Technology
Apple: Get wireless Beats headphones when you buy an eligible computer, tablet or smartphone with a valid student ID. Apple also offers special education pricing on Apple computers, select software and third party products to post-secondary students, parents buying for a post-secondary student, or faculty and teachers. Find out if you qualify for Education Pricing here.

Adobe: Full-time students can receive discounts on software, such as 60% on Creative Cloud.

Best Buy: Check out the Students Savings program for exclusive deals on laptops, tablets, desktops and small appliances.

Microsoft: FREE Microsoft Office 365 subscription and Windows 10 from select schools.

Microsoft Store:

Students can save up to $194 on a Surface Pro 3, or save 10% on accessories. They also get special pricing on software. Visit the Microsoft Store website for more information.

Dell: reduced pricing on select hardware via the Dell Education Store.

Henry's: 10% off select products and 20% off rentals.

Lenovo: reduced pricing on select hardware and accessories via the Lenovo Academic Purchase Program.

Shaw: Keep your student budget balanced with Shaw. Students get internet for just $35 per month for eight months.
Cellphone Companies
Rogers: Reduced Rates (Ask whats availble)

Shaw: Reduced Rates (Ask whats availble)

Bell: Reduced Rates (Ask whats availble)

Telus: Reduced Rates (Ask whats availble)
---
---