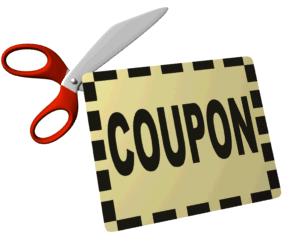 Where do you guys get all those coupons from?
The Savings Guru Ultimate Canadian Coupon Guide
Follow this guide and you are sure to get most of the coupons out there.
Remember if you register for any account make sure you register one account for each family member to maximize your savings.
Many good coupons are found there, There are maximum of 2 prints per computer or device. Some coupons are only printable some can only be mailed and some are both.
If you scroll down the page there is a list of portals for hidden web saver coupons. Another Websaver portal is ZebraCoupons.
3) save.ca                             
     
Only one coupon can be ordered or printed per account. They also have hidden portals.
Many coupons can be had twice (Once from WM and once from Save.ca)
Allows you only 2 prints per computer or device. Has a very large number of available coupons. Has hidden portals.
Those are P&G coupons and they use the SmartSource print software too.
5)

SmartSaver

coupons can be found here.    
7) healthyessentials      
Mostly Johnson & Johnson coupons
offers coupons  for products like Green Works and Glad.   
14) Printable coupons. We summarize some of the

best printable hidden coupons in one file

 Usually it will allow 2 prints per computer.
15) Coupon Inserts. Those little coupon booklets are added to local newspapers and provide some of the best coupons we find in Canada. They are Red Plum, SmartSource, P&G and Unilever insert. Experienced couponers tend to be able to get many coupon inserts.
16) Coupon Zone or CZ.            
Those coupons can be found in most Loblaws brand stores like RCSS, No frills, Independent and Valu-Mart Atlantic superstore, Maxi, Provigo, Zehrs , Fortinos.
Walmart will also take them if final price is specified. WM will treat the coupon as a price match and you only need one to do so. The coupons are found on the board in the front of the store or under the individual products in some other stress. Some of the coupons on the CZ boards are also normal manufacturers coupons and can be used anywhere. Check the back to see if there is no restriction on where you can use those they are normal manufacturers coupons. If they are CZ only coupons you can use them in any Loblaws brand or sub brand stores.
17) Online coupon rebate companies CO51, Zweet, Save.ca,  those smart phone apps that let you take picture of your receipt and will send you a cheque you for buying an item on the list. Coupgon is one more app that has coupons that you can use in some stores like Giant Tiger.
Those apps are the bread and butter of couponing since in most cases you can combine that rebate with a sale and a coupon. Open an account for each device you have in the house.
18) Tear-pad – A pad of coupons, usually on the shelf or display, where you tear the coupon off of the pad. Great coupons can be found on tear pads and can be taken without buying anything.
19) Hang tag = a coupon hanging of a product. You should use the hang tag on the product it Is on and in the store you found it in. same applies to Peelie – A coupon that is attached directly to the product to be "peeled off"
20) Magazines – Some magazines including the LCBO and the Walmart in store magazine are free and full of valuable coupons. Please ask for permission to take more of them.
21) Many companies will mail you coupons. All you need to do is E-mail them and request coupons. Even better spend the time and call the company. We provide a list of companies that will mail you coupons here.
23) Coupgon– app for your smart phone or tablet that is like a digital coupon, taking the cash off the price right at the checkout.

---
---